we are
content marketing 3.0
The world has moved from making people want stuff to making stuff that people want. That's what we do.
In our age of 8-second attention spans and information inundation, traditional content marketing (short-tail, one-size-fits-all, single platform, volume production) has its limits. The world is evolving. Consumers are evolving along with it.
We believe that the path to brand loyalty in changing times is simple: make the stuff that people want. To us, that means insight-driven, audience-targeted content—the kind born of deep understanding, and designed from inception to educate, foster intimacy, awaken possibilities, meet unmet needs; and reach audiences when and where they are most receptive. 
CONTent MArketING The Captains' Way:
Creative storytelling that reveals and celebrates the truths of our clients' brands

Thoughtful publishing that builds emphasis and sustains interest

Flagship platforms and initiatives that ladder up to something greater than individual stories
When it comes to working with challengers—the ones intent on entering markets, creating new value, and leapfrogging old assumptions—process matters. Our most successful engagements begin with a formative strategy phase during which we identify the core values of a client's brand; profile the most important audiences to reach; and glean insights from a deep dive into competitive market dynamics. This foundation of understanding becomes our creative edge—the way we seize nascent growth opportunities; craft a brand message that resonates with even hard-to-influence audiences; and guide a market entry, pivot, or reinvention with content that moves audiences to take action.
We only engage in leadership-level partnerships with our clients—so we are in the game together in building audience relationships prior to and beyond purchases. But don't take our word for it. We're happy to let our clients—and our work—speak for themselves.
ecosystem understanding
Before you can change the world, the right portion of the world has to know who you are, and how you're different. Through formative brand research, we build an understanding of your most important audiences, their mindsets and behaviors, and your competitive landscape to construct the positioning pillars that will compel the right people to find you, engage with you, and ultimately, evangelize on your behalf.
Messaging & Content roadmapping
Culled from insights gleaned in the research phase, we craft a messaging platform to communicate your unique value (the "why" behind what you do) to your key audiences. From there, we develop the content roadmap as the plan for bringing your message to market. More robust than an editorial calendar, holistic than a brief, and practical than a style guide, the roadmap distills sentiments, messages, and content to meet audiences on their paths from discovery to advocacy.
content Creation & distribution
We have a knack for finding great stories in unexpected places. But make no mistake: great creative work is born of strategy, not serendipity. When it comes to the making, we stay platform and format-agnostic so that we can mold, polish, measure and refine the creative product to entertain, inform, or dazzle, but ultimately—bring your story to the right audiences, at the right times, for marked and measurable results.
Our ethos is embodied in our Manifesto, a series of fundamental truths that serve as a blueprint for our marketing philosophy and client-focused approach.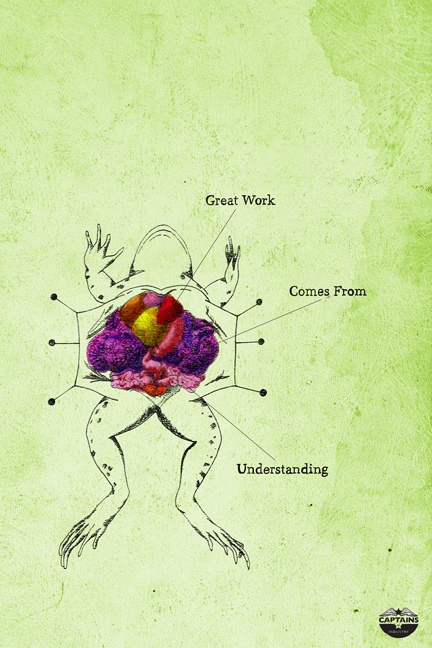 Born independent. And staying that way.
In the era of mergers and acquisitions, we're committed to staying nimble, independent, and specialized—just as we were when we were founded nearly 20 years ago in Boston. Our independent streak allows us to be highly selective of our clients, choosing only those who have the passion to upend the status quo. In fact, we only work with a maximum of 10 clients at a time, allowing us to be personally attentive to their challenges and able to do whatever it takes for them to be successful.
Clift Jones
President & CEO
Clift served as the youngest partner/ direct report to the US President at Bozell Worldwide in New York City from 1995-2002. In 2003, Clift was appointed the first outside U. S. President and eventual Global Chief Operating Officer at Modernista LTD and served in that capacity from 2003 – 2010 growing the media billings from $50 million to $900 million, expanding into three offices, and representing iconic brands including Budweiser, Business Week, Cadillac, (RED), Converse, Palm, Bill & Melinda Gates Foundation and TIAA-CREF. During his tenure the firm was recognized as one of the fastest growing independent agencies in the country and earned Regional Ad Agency of the Year honors from Adweek. Clift is the President & CEO (and Principal) of COI, Inc leading the strategic direction of the firm having successfully transitioned the business from a project-based, production-centric company to a full service content marketing consultancy representing clients on both coasts including MIT, Recurrent Energy, American Beverage Marketers, BlueWave, Northeastern University, DNV GL, and Vionx.
Ted Page
Executive Creative Director & Founder
Ted Page is one of the co-founders of Captains of Industry, and today serves as a kind of master chef to ensure that the agency's creative storytelling is up to our high standards. Ted brings over 25 years of experience to this task, guiding the creation of brands and content marketing campaigns for clients ranging from First Wind, to the MIT Sloan School of Management. Ted wrote the script for "The Institute for Backup Trauma," starring John Cleese, featured by the Content Marketing Institute as the first successful B2B "viral" campaign. Ted is the author of the top-ranked eBook, "Branding and Marketing for Renewable Energy Companies". In addition, Ted wrote the "Climate Declaration" for CERES, which was signed by over 1,400 corporations including Nike, Levis, Apple, Starbucks and GM. Ted lectures on marketing at top business schools and at conferences globally. His non-fiction stories have appeared in Boston Magazine and the Boston Sunday Globe Magazine, and his book of stories—"The Willoughby Chronicles"—will be published by Three Swallys Press in September of 2017.
Fred Surr
Executive Producer & Founder
Fred has more than 25 years of experience in marketing and motion picture production, bringing a filmmaker's eye and sense of story to develop innovative and strategic marketing solutions that deliver bottom-line results. Fred started his career developing and producing children's television for broadcast and cable networks. After starting his own production company, he expanded his work to include educational publishers like Simon & Schuster and Sundance Publishing; public policy organizations like The National Institute of Out-of-School Time and the Harvard Risk Management Foundation; and companies like John Hancock, BMW, and Staples. Since joining Captains of Industry in 2003, he has drawn more deeply on his marketing roots, helping create strategic direction for clients in energy, education, public policy, and technology, while simultaneously leading Captains' in-house production division, where he oversees all aspects of motion picture development for clients. Fred has a BS in Marketing from the Pennsylvania State University and an unwavering dedication to the pursuit of a single digit handicap. He's also an avid and uniquely untalented hockey player.